Wedding Floral & Special Occations
Custom Floral Design For Your Special Day!
At Alpenglow Growers we specialize in growing unique and uncommon varieties that stand out from the rest and we hope you have a fun time with us creating the floral look you want for your wedding day. 
We offer three types of wedding packages, Full Service, A La Carte and Bulk. Take a look to see which package best fits your needs and then fill out the questionnaire by clicking the button below.

Full Service 
This package is for couples that want the professionals to take care of all the details from bridal bouquet to centerpieces including delivery/setup and take down.  
This package also includes a personal consultation as well as email and phone communication to get all the details just right.
The florist can order in specialty flowers that are a must for the bride going for a certain look.  Requests for installations such as hanging chandeliers/arbors fall into this category as well.

A La Carte
This package is for couples that still want a professional and custom floral for their wedding but are able to shave some costs by having someone in there party take care of delivery/set-up and take down.  
The gorgeous fresh blooms grown right here on the farm are the majority of the materials used in these arrangements.  We take care of all the personal flowers and you take the rest using our bulk flowers. 
Large installations such as arbors are not included in the A la cart package.

Bulk
The bulk flower package is made for those of you that have a family member or friend capable of arranging centerpieces and any other arrangements you desire. 
Bulk flower orders include a combination of focal flowers, filler, greenery and seasonal accents such as seed pods, grasses etc. Bulk flower buckets start at $70/bucket.
Ready to get started?
Say hello and tell us all about the big day by filling out our wedding questionnaire.
We are a young couple from Gunnison, CO and we were thankfully connected to Cynthia of Alpen Glow Growers through word of mouth, as we wanted to keep all vendors local. Cynthia was prompt, detailed and so very down-to-earth! We even had the pleasure of going to her home/greenhouse to see how it all works, her family/dogs/atmosphere were welcoming and beautiful. I particularly loved that I approached Cynthia with minimal ideas about our floral design, I created a very simple vision board and let her take the reigns, she did not disappoint! We had guests gawking, taking photos of the head table and demanding to know "what type of flower is that?"! All delivery and take down was on-time and she worked great with our planners! We highly recommend Alpen Grow Glowers if you are looking for a reliable and creative person to add the right amount of flare to your big day! – Ryan & Paige
We hired Cynthia to create our floral arrangements for our wedding ceremony and reception in Telluride. Cynthia's gorgeous creations were everything we were looking for and then some! She worked with us to really make our vision come to life. From our wedding aisle to our dinner tables, Cynthia's talented design, hard work, and fervor made all the arrangements pop with class and dazzle. We loved that Cynthia also owns a local flower farm and sourced almost all the florals and greenery from her farm. She was just a pleasure to work with and always accommodating towards design ideas. – Brent & Amanda
Want to know more?
Call Cynthia at 970-209-5774 or fill out the form below and we will get back to you within 24 hours.
Stay in the loop
Receive exclusive sales & specials, updates on bouquet subscription availability and more.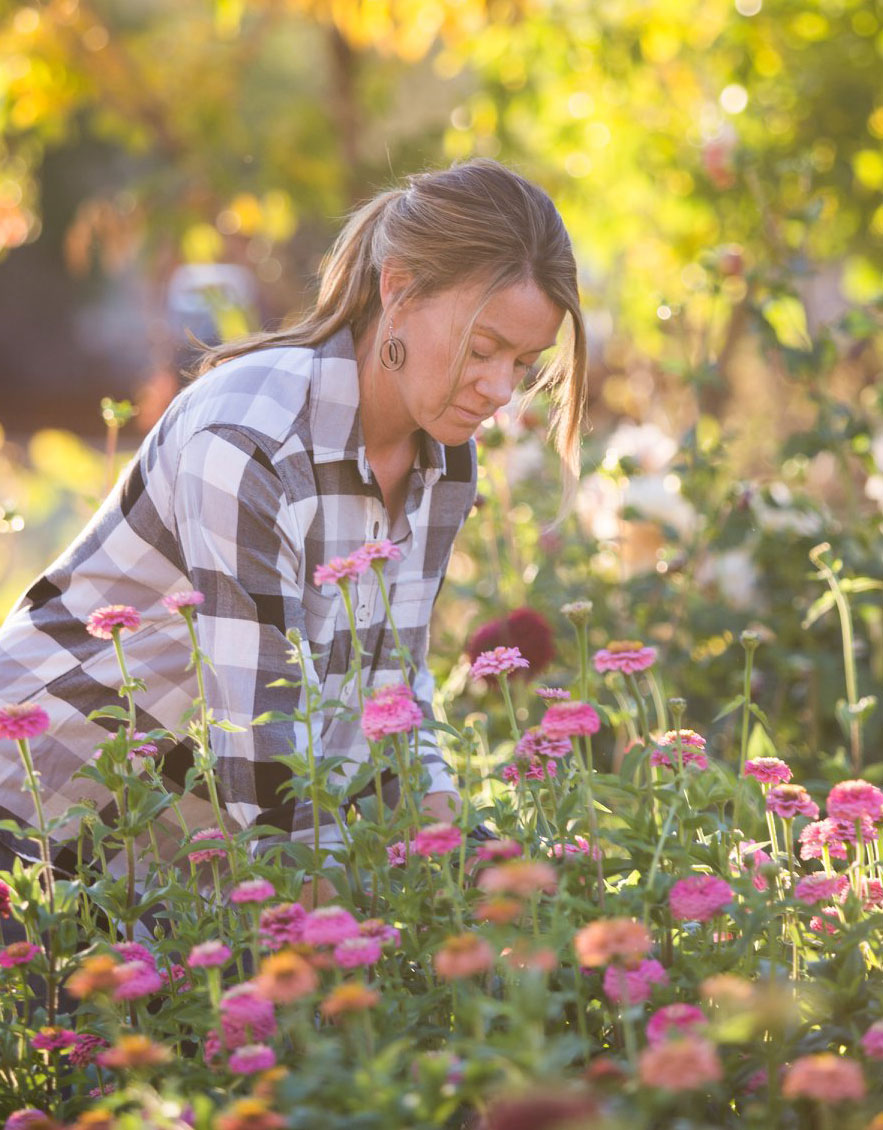 Welcome To Our Flower Farm
Hi! I'm Cynthia Alvarez and I have been gardening flowers and vegetable my whole life and started growing and designing FLORIST GRADE cut flowers for the past 7 years as a business.   My three boys and I live and 
work
 here at our small homestead in Montrose, CO where we have panaramic views of the San Juan 
Mountain Range and Uncompahgre Plateau. 
 Here, we grow and design our flowers for weddings, wreaths, bouquet subscriptions and other special orders.  
My parents shared with me their love of plants and gardening and so have instilled in me a deep connection to the natural world and I in turn want to do the same with my three sons.  My 
oldest
 can be found working with me on weddings and has become my right right hand man for set up.  My two youngest sons both love making wrapped bouquets and probably love placing the stickers on the bouquet sleeves the most!
Living and growing flowers here on the Western Slope of Colorado is especially breathtaking as the sun sets creating an alpenglow on the mountains.  I aim to farm the land sustainably and look forward to sharing the alpenglow views with folks at workshops and small on farm events.
I love surprising people with varieties of flowers they have never seen before, haven't seen since their childhood or the reaction from a friend when they see how fresh and long lasting their sunflowers are. It is a complete joy to bring our local flowers and floral design to the Western Slope.
Subscribe for upcoming farm events and all the latest information on workshops, holiday wreath sales and bouquet subscriptions